Drum & Yoga Rejuvenation Retreat in Crete
4-10 September 2015
Yoga – Drumming – Celebrate
with Marla Leigh & Elena Donhoff
   What are you doing with your wild and precious life?
As Zorba the Greek so brilliantly embodies, let us enjoy and celebrate. Join us for this exciting retreat on magical Crete!
The ancient arts of Yoga and Drumming connect us to our inner wisdom, the song of the heart, our common rhythm. Sfakia on Crete where we will stay is the perfect location: Greek hospitality and climate, close to the beach, a rugged landscape, magic radiance and a long history of female drummers from the antique to now!
Picture of Ancient Greek Frame Drum Goddess
---
The retreat includes daily yoga, drumming, meditation, meditation, chanting, beach time, and special visits to local ancient sites.
Transform your rhythm. Transform your life!
Connecting back to the ancient lineage of women drummers, we will learn to play the frame drum, one of the worlds' oldest and most sacred instruments that were first seen played by women – in places such as Crete.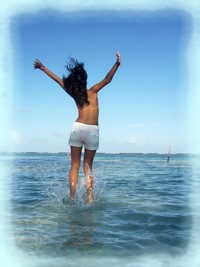 You will leave this transformational experience with all the skills to be a creative and inspired drummer, while feeling good in your body, mind and spirit through daily practice of yoga, meditation and chanting!
---

Details
Cost of the retreat is SEK 7500. ($874 USD)
The all-inclusive price includes shared accommodation (2 people per room) in a beautiful house near Sfakia and the beach, vegetarian meals, daily drumming and yoga, chanting and meditation. Single room supplements are available.
Flights and transport are not included. There are direct return flights for SEK 1500 with RyanAir from Skavsta to Chania/Crete on Fridays, which would mean spending another night in Chania after the retreat, which is really worth it as Chania is a beautiful old Venetian harbor town with nice restaurants, guesthouses, shops.
Open to all Yoga and Drumming levels, no experience necessary. Please bring a frame drum, if you do not have one, you can purchase one at the workshop for a reasonable rate (SEK 300-400).
Daily schedule includes: morning meditation, extended yoga session, brunch, free time (with opportunities to explore the island, go to the beach), early evening drumming session, chanting, delicious homemade dinner and special evening programs.
This will be an amazing trip, and space is limited, so book early to ensure your space.
REGISTRATION & QUESTIONS
Contact Elena on 070 0441195 or elenadonhoff@yahoo.com
---
About Your Facilitators
Marla Leigh Goldstein
Marla is a Los Angeles based professional Percussionist, Flautist, Composer and Educator, and one of the very few female specialists in the ancient Mediterranean frame drum. She is an internationally recognized teacher and performer, who has presented throughout the USA, Canada and Europe. Marla carries the gift of being an inspiring and energetic educator, and soulful, charismatic performer.
Elena von Dönhoff
Yogateacher and mother-of-four, has lived and learned all over the World. Yoga has been her passion since her early 20's and she has studied with amazing teachers for over 10 years.
In Lidingö, Elena now runs her own studio CapeYoga and teaches classes influenced by several traditions including flow-based Vinyasa, slow and deep Yin and Kundalini Yoga